Slowest July in the past 10 years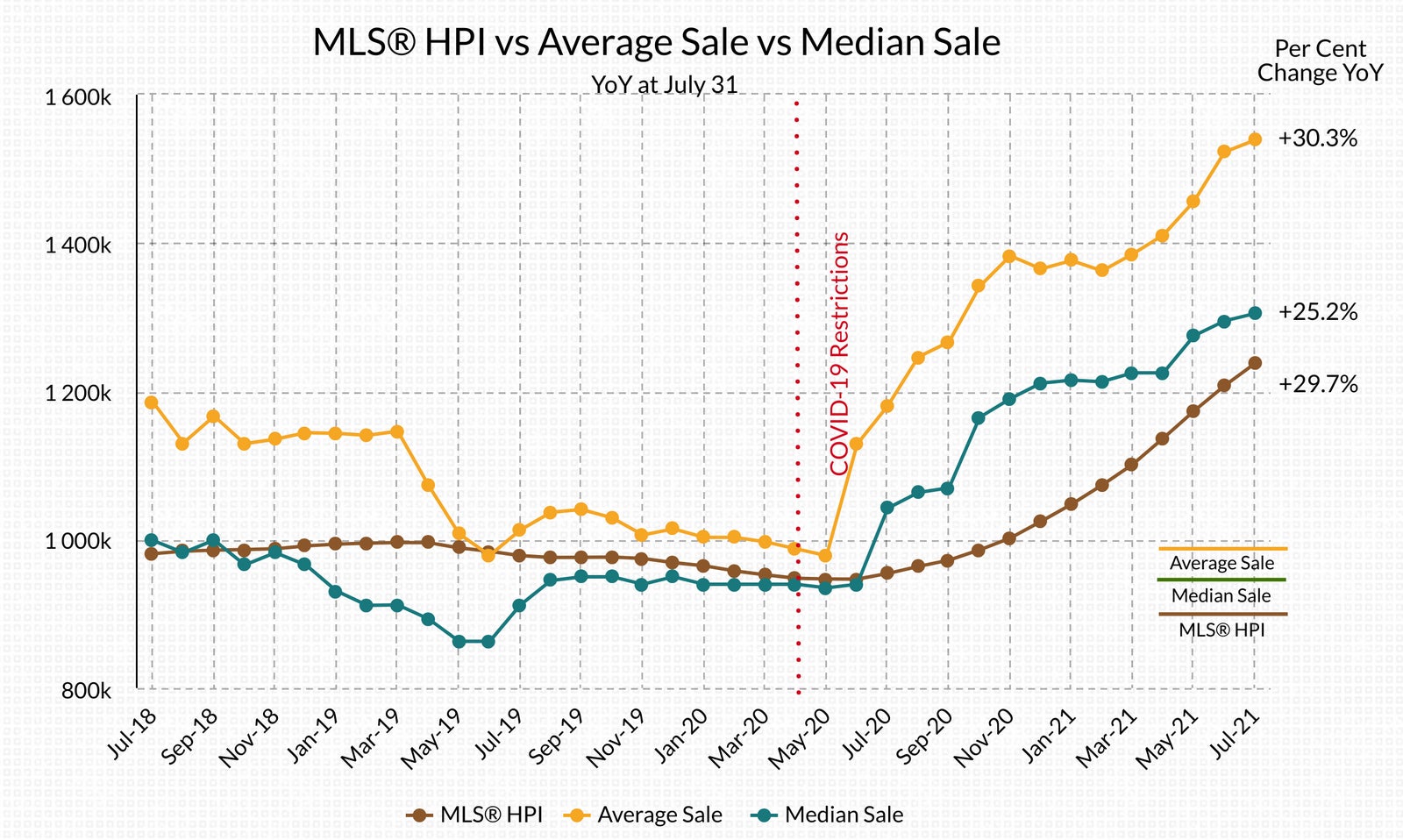 The number of sales and the dollar volume of sales for the month of July 2021 was a record low compared to the same month over the last 10 years. Typically, the market slows during the summer months as many buyers are on vacation, and this year the slow-down was exacerbated with the relaxation of COVID restrictions, making connecting face to face with friends and family the priority.
     The slowdown in sales served to moderate the rate of increase in the MLS® Home Price Index (Benchmark Price), Median Sale Price, and Average Sale Price year-over-year (YoY); however, all three indicators recorded 10-year highs. Over the last year, the YoY Benchmark price increased by 29.7 per cent, the Median Sale Price by 25.2 per cent, and the Average Sale Price by 30.3 per cent. Over the past 5 years these YoY indicators have increased 83.3 per cent, 71.1 per cent, and 83.3 per cent respectively. These statistics are for all detached homes; however, the increase in Average Sale Price is relatively consistent when comparing properties under $2.0 million with those over $3.0 million.

     The BCREA 2021 Third Quarter Housing Forecast Update expresses concern about an adequate supply of listings given "the strong demand supported by low mortgage rates and a rapidly rebounding post-COVID economy." The BCREA forecasts Unit Sales for Greater Vancouver (all housing categories) to increase 37.7 per cent in 2021 and see a decrease of -17.1 per cent during 2022. The forecast for the Average MLS® Price for Greater Vancouver over 2021 is a 10.2 per cent increase and another 2.1 per cent increase over 2022. The Average MLS® Price is forecast to increase from 2.2 - 6.1 percent in 2022 compared to 9.6 - 22.4 per cent in 2021.
     On Bowen Island, Unit Sales increased 44.4 per cent YtD (at the end of July) for detached homes and the Average Sale Price increased 29.6 per cent for detached homes.
 
     For homeowners who are considering selling, the forecast suggests there is no significant financial advantage to delay. For buyers, inventory levels will remain low and while prices may moderate or stabilize, price reductions are not in the forecast. 
STATS ON BOWEN is an analysis of the detached home market activity on Bowen Island
Published during the month following.
If you would like STATS ON BOWEN sent to your inbox,
WE DO NOT SPAM.
You will only receive email related to the STATS ON BOWEN monthly reports and the occasional update.