Upward trend in prices continues to slow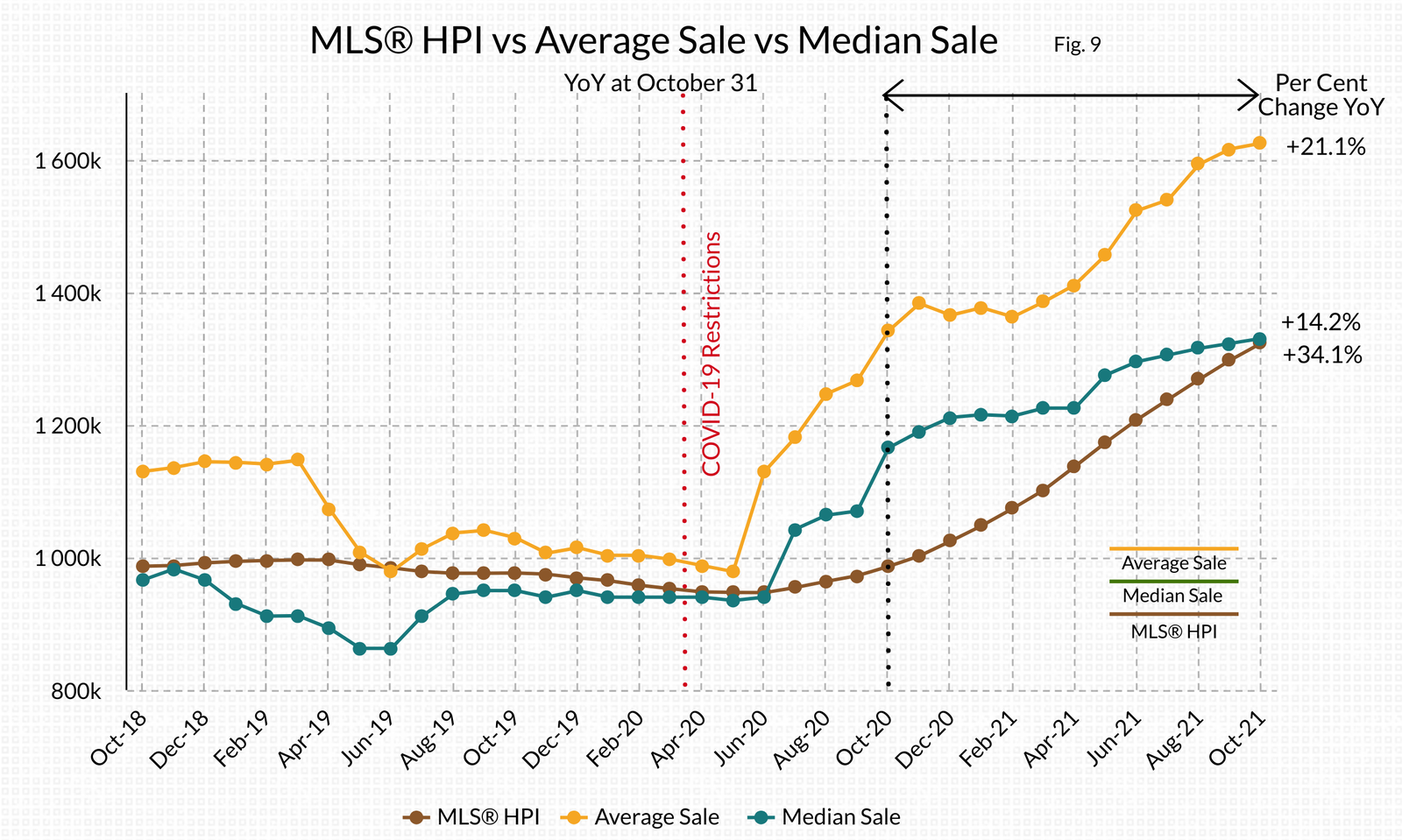 The upward trend in detached home prices on Bowen Island continued to slow. The Year-over-year Average Sale Price in October compared to September was 0.5 per cent and the Median Sale Price changed 0.6 per cent. The YoY MLS® Home Price Index in October compared to September was 2.0 per cent. Fig 13, comparing YoY October 2021 to October 2020, indicates the trend for Average and Median Sale Price as the MLS® HPI slowed dramatically.
Over the same period, Total Inventory and Number of Sales slowed dramatically (Fig. 12), with YoY Total Inventory the lowest in 16 years. YoY Total Inventory levels were down (-39 per cent), and Number of Sales was down (-5 per cent). New Listings were down 39 per cent
The last five years have seen the gap between Bowen Island prices and those of the REBGV region (Metro Vancouver, Whistler, Squamish, and Sunshine Coast) reduced significantly. In October 2016, the YoY MLS® HPI was 102 per cent that of Bowen, while in October 2021 it was 31 per cent, and comparing the same period, the YoY Average Sale Price was 93 per cent and 18 per cent respectively. The gap has not been this narrow since Q2 of 2010.
YoY in October, 19 per cent of homes sold for less than $1.0 million compared to 32 per cent in 2020 and 60 per cent in 2019. During the month of October 2016, no homes were sold under $1.0 million, the lowest price paid was $1.377 million and the highest price was $2.74 million. YoY the lowest price paid was $590,000 while the highest was $13.6 million.
October inventory levels were the lowest since 2005 (search limit for MLS). On November 14, there were 12 homes and 14 lots listed for sale on Bowen Island, and due to developers bringing new lots to market ,YoY land sales increased 69 per cent.
Modest price increases and continued low inventory is likely over the coming winter is likely to continue.
On August 1, 2021, BC Financial Services Authority became the regulator of real estate services in BC. "
As part of the decision to introduce a mandatory cooling off period for residential real estate transactions, the Minister of Finance has asked BCFSA to consult with key industry stakeholders and experts to determine the parameters of this new measure. The province has also instructed BCFSA to investigate and consult on other potential changes to help protect consumers, including the practice of blind bidding. BCFSA will report back to the Minister of Finance with its findings and advice in early Spring 2022.
"*
Until the consultation period is over, and the regulations are clarified, it is difficult to predict what impact this may have on the market, but uncertainty over over the impact may cause some owners who are thinking of selling to act sooner rather than later.
* https://www.bcfsa.ca/about-us/news/news-release/cooling-off-periods-and-consumer-protection
Month of September Detached Homes
 SALE PRIC
E  vs LIST PRICE
Low    $1,337,000    $1,194,000
High   $2,174,000    $2,250000
Average Sale:    $1,649,333
Median Sale:     $1,505,000
MLS®HPI: $1,322,983
Average Price: $1,624,284
Median Price: $1,330,000
STATS ON BOWEN is an analysis of the detached home market activity on Bowen Island.
Published during the month following.
If you would like STATS ON BOWEN sent to your inbox,
WE DO NOT SPAM.
You will only receive email related to the STATS ON BOWEN monthly reports and the occasional update.