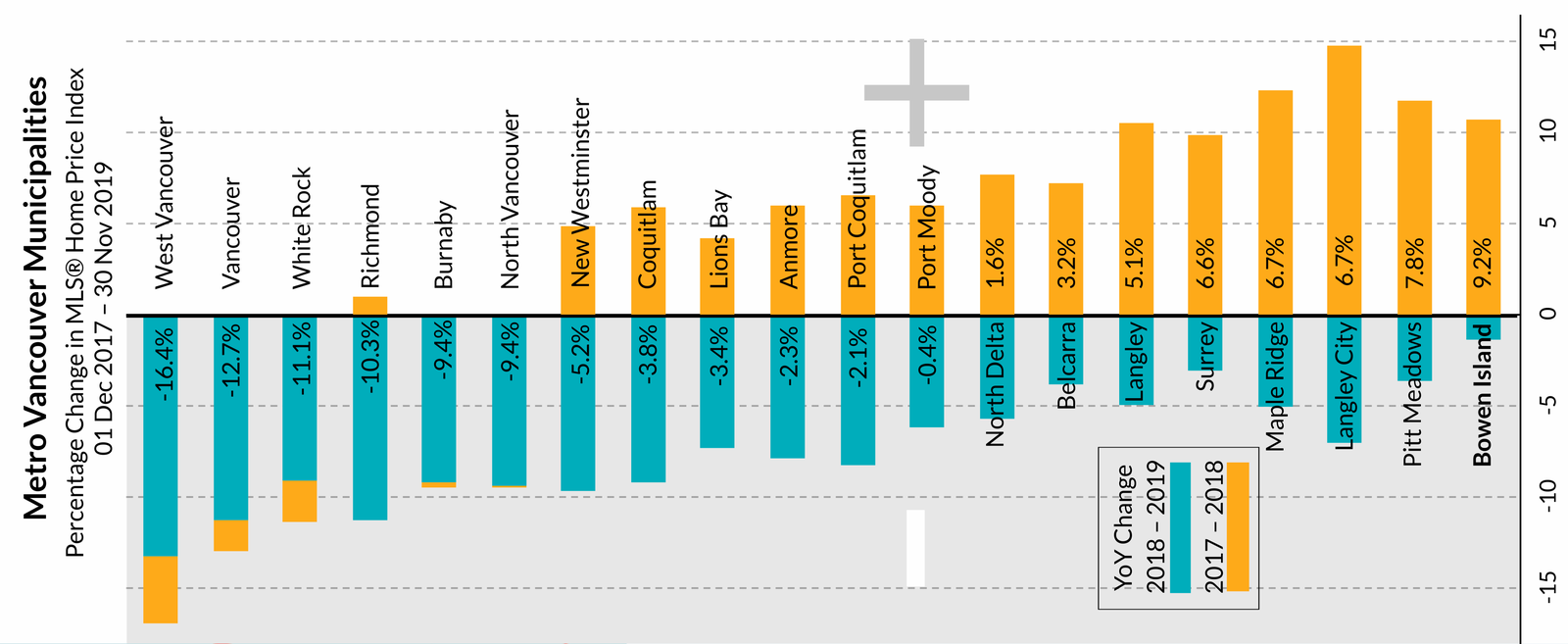 All indicators in November, year-over-year and year-to-date, continue to track well below the same period for 2018.
The MLS® Home Price Index is the most reliable way to compare real estate values across diverse markets like those in Metro Vancouver. Using this index Bowen Island properties performed better year-over-year than all other Metro markets, showing only a –1.3 per cent decrease year-over-year at 30 November 2019 , followed by Pitt Meadows at –3.6 per cent, while West Vancouver recorded a –13.2 per cent change. At 30 November 2018, Bowen recorded the fourth highest increase in MLS® HPI at +10.7 per cent, and over the past two years (2017-2019) Bowen Island recorded the highest change in HPI at +9.2%.

The market on Bowen continues to be strongest for homes under $1 million. Of the 43 sales of detached homes on Bowen from 01 December 2018 through 30 November 2019, 60 per cent sold at under $1 million and the highest price paid for a home was $1,499,500. Of the 28 properties listed as active on MLS®, ten (36 per cent) are priced above $1.5 million. Year-over-year the sale price has averaged 93.1 per cent of the list price.
As well as Bowen has performed in a difficult market, it has yet to experience the increase in year-over-year activity reported for Metro Vancouver. The Real Estate Board of Greater Vancouver's Stats Centre indicates 8030 sales year-over-year at 30 November 2019 compared to 7873 sales for the same period in 2018–an increase of 2 per cent  Over the same period, Bowen's number of sales decreased from 62 in 2018 to 46 in 2019–a change of –26 per cent. Real estate trends tend to track several months behind the mainland on Bowen Island, so we may not see a similar  uptick until late winter or early spring 2020.
Those interested in purchasing a home on Bowen may see what advantage buyers have in the current market being eroded as we move into 2020.
MLS®HPI: $976,650
Median Price: $940,000
Average Price: $1,002,108
MLS®HPI: $985,800
Median Price: $940,000
Average Price: $1,010,522
STATS ON BOWEN is a detailed analysis of activity on Bowen Island published monthly, 
usually within seven days from the end of the month.
If you would like notice of the most recent STATS ON BOWEN sent to your inbox
you can 
SUBSCRIBE HERE
free of charge.
WE DO NOT SPAM. 
You will only receive email related to the STATS ON BOWEN monthly reports.