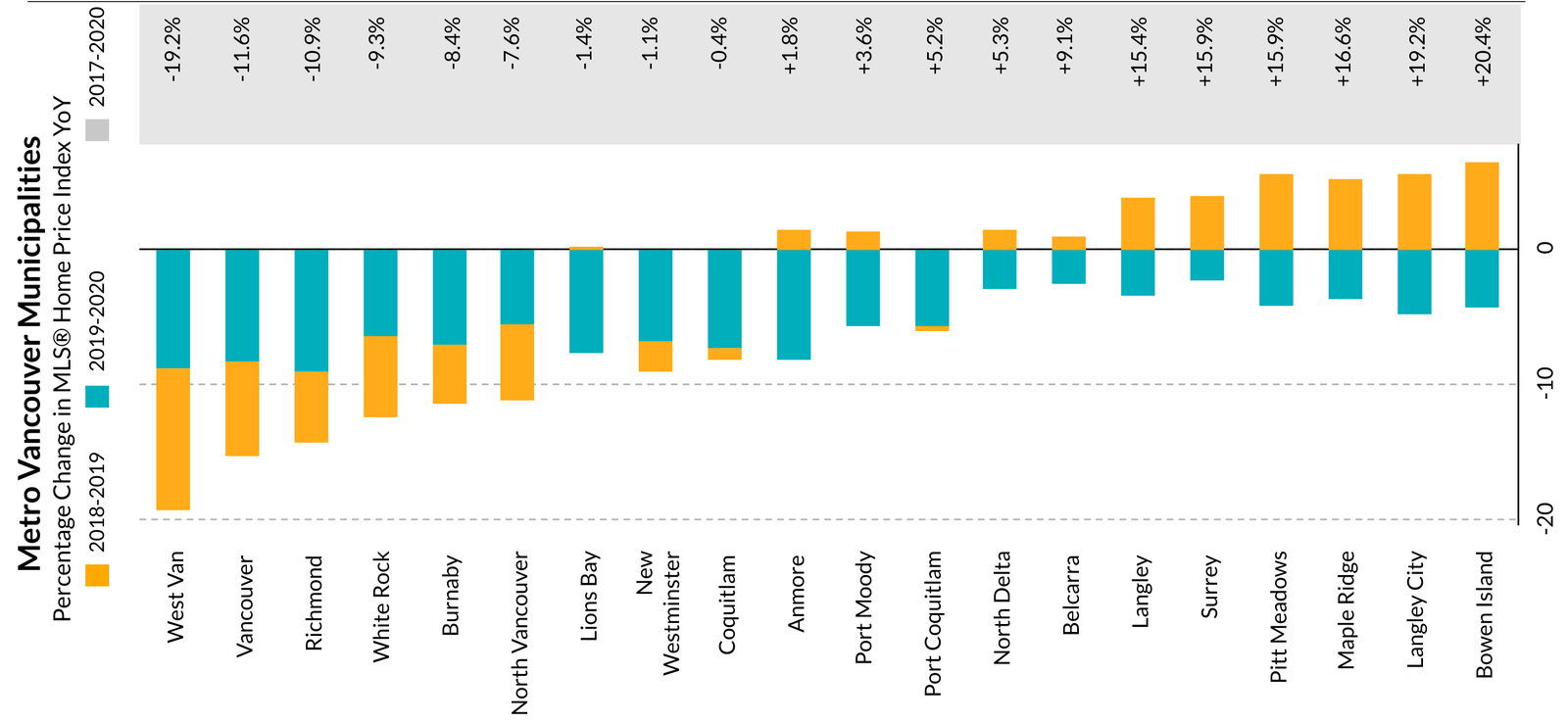 The COVID-19 crisis had an immediate impact on Bowen Island after mid-March, slowing real estate activity on Bowen Island. The 3 sales of detached homes recorded in March all closed before March 15, and there was 1 cancelled listing, 2 expired listings, and 8 new listings, leaving 24 active listings at the end of March 2020.
Although new listings for March 2020 for the Real Estate Board of Greater Vancouver (REBGV) were down -16.7 per cent compared March 2019, new listings were the highest recorded in a month since September 2019, sales the highest in a month since October 2019, and dollar volume of sales the highest in a month since May 2018. However, compared to the first week of April 2019, April 2020 new listings for the REBGV are down
-67.4 per cent, which may suggest that some of the activity in March could be considered pre-COVID-19.


Bowen sales have been reasonably stable over the last six months, with the year-over-year average sale price seeing the largest decline at -3.14 per cent; however, year-to-date has seen the average sale price up +1.9 per cent compared to 2019. Year-over-year the median sale price was down -1.05 per cent from October 2019, and the MLS® Home Price Index or benchmark price was down -2.44 per cent.


Comparing year-over-year change in MLS® HPI from March 31, 201,7 to March 31, 2020, Bowen Island continues to out-perform other Metro Vancouver municipalities, with a +20.4 per cent gain even though the benchmark price lost -4.3 per cent year-over-year compared to 2019.


Real estate has been classed as an essential service because of its importance to the economy. Many brokerages have strict measures in place with respect to viewing a property for sale. Angell Hasman & Associates (the brokerage I work with) requires the seller, buyer, and REALTORS to sign consent, release, and indemnity forms specific to listing and viewing homes during the COVID-19 crisis which clearly articulate procedures to keep everyone safe to the greatest extent possible.


There are buyers looking for deals, buyers who have sold homes conditional on purchase of a new home, buyers who have sold homes and must move. There are sellers who have kept their listings active, sellers for whom
selling is more urgent, and sellers who see some advantage in listing their home while others hold back – and mortgage rates are at historic low levels.

The real estate market was just coming out of a significant downturn where the most active market on Bowen Island was for homes priced under $1.5 million. This is likely to be the market for the rest of 2020, and perhaps into 2021.
BOWEN ISLAND YOY STATS
@31 March 2020
• MLS®HPI: $952,817
• Median Price: $940,000
• Average Price: $984,924
Year-over -year, March 2020
lot prices varied from $10.75 to
$12.46 per square foot depending
on size, location, terrain, access, and
services.

---
STATS ON BOWEN is a detailed analysis of activity on Bowen Island published monthly,
usually within seven days from the end of the month.
If you would like notice of the most recent STATS ON BOWEN sent to your inbox
you can 
SUBSCRIBE HERE
free of charge.
WE DO NOT SPAM.
You will only receive email related to the STATS ON BOWEN monthly reports.
---