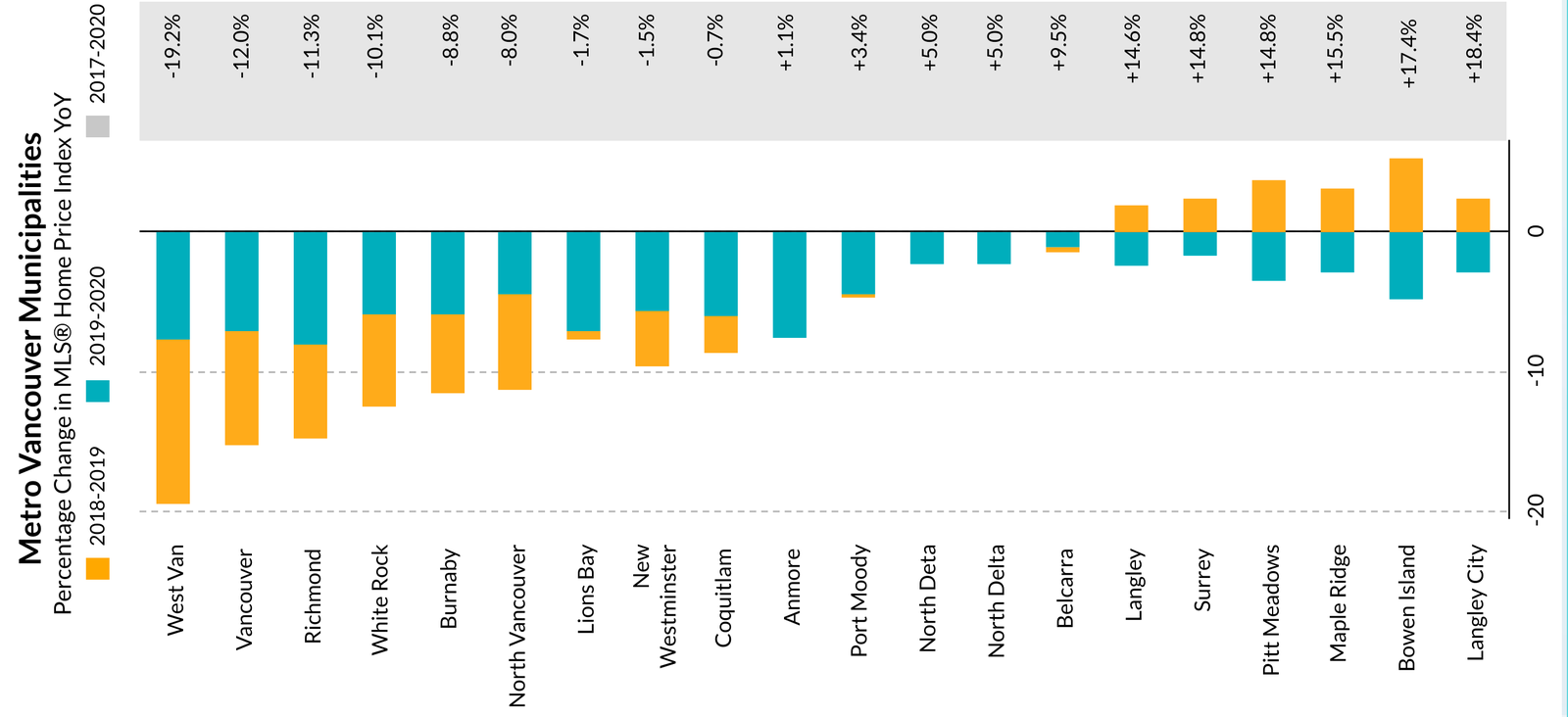 YoY at April 2020 the MLS® Home Price Index was down -4.8 per cent from 2019, at April 2019 it was up +3.7 per
cent, at April 2018 it was up +15.3 per cent., and the YoY MLS® HPI for Bowen at April 2020 was up +17.7 per cent
from April 2017 (the second highest of Metro Vancouver municipalities–Langley City was the highest at +18.4 per
cent).

The MLS® HPI or benchmark price has been significantly influenced by the number of sales is various price
categories. Sixty-five per cent of all the homes sold onBowen in the past 12 months (2019-20) sold for under $1
million and no homes sold over $1.5 million, which isreflected in the HPI. In the previous 12 months (2018-19), 62 per cent of sales were under $1 million and 13 per cent were over $1.5 million; and 2017-18, 46 per cent of sales
were under $1 million, and 17 per cent were over $1.5million.
It's difficult if not impossible to predict where COVID-19 protocols for showing and viewing properties will ultimately
take the market, but although sales have slowed drastically on the mainland, Bowen's statistics have yet to indicate a
dramatic slowdown.
Predictably, the number of home sales and listings declined in April given the physical distancing measures in place," Colette Gerber, REBGV's president-elect said. "People are; however, adapting. They're working with their Realtors to get information, advice and to explore their options so that they're best positioned in the market during and after this pandemic." Realtors have been named an essential service by the provincial government to help the home buying and selling community meet their housing needs during the pandemic. "We're seeing more innovation in today's market, with Realtors using different technology to showcase homes virtually, assess neighbourhood amenities with their clients and handle paperwork electronically," Gerber said. (Real Estate Board of Greater Vancouver NEWSFLASH. May 4, 2020)
The spread between list price and sale price (YoY 93.1 per cent) was at Q2 2016 levels, suggesting buyers are continuing
to put some downward pressure on prices; however, new listings and total inventory remain low, an advantage to sellers who maybe consider listing their homes.
BOWEN ISLAND YOY STATS @30 April 2020
• MLS®HPI: $948,092
• Median Price: $924,879
• Average Price: $987,677
STATS ON BOWEN is a detailed analysis of activity on Bowen Island published monthly,
usually within seven days from the end of the month.
If you would like notice of the most recent STATS ON BOWEN sent to your inbox
you can 
SUBSCRIBE HERE
free of charge.
WE DO NOT SPAM.
You will only receive email related to the STATS ON BOWEN monthly reports.