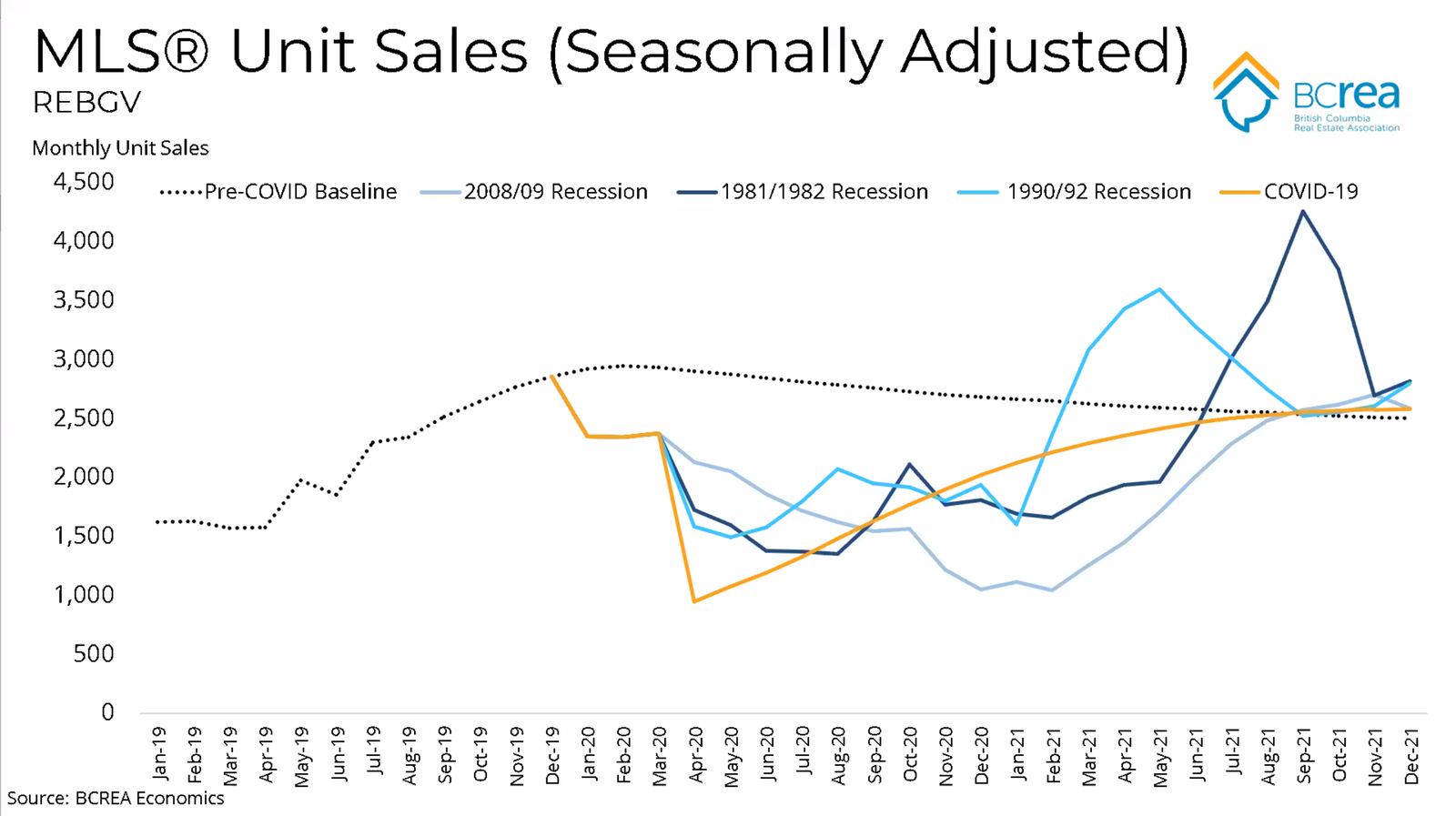 Home prices have remained firm in the early stages of this recession.
The COVID-19 pandemic has resulted in sudden and dramatic changes in every aspect of life, and as the curve flattens in BC, economists are addressing the question of how and when we will recover.
"Our baseline projection is for home sales to return to near pre-COVID-19 levels by the end of 2020 and post a strong recovery through 2021, boosted by pent-up demand and historically low interest rates." 
The BCREA (BC Real Estate Association) used 19 months of data gathered during the recovery from previous recessions to project performance coming out of COVID-19. The three most recent recessions, 1981/82, 1990/92, and 2008/09, saw significant increases in sales within 12 to 18 months, leading the organization to forecast a 57 per cent increase in sales in 2021.(Fig.1) coming out of the COVID-19 recession. While admitting to 'tremendous uncertainty' in the marketplace, the BCREA is forecasting a 2.4 per cent increase in home prices in the REBGV area. The forecast assumes there will be no dramatic increase in inventory, which will serve to keep prices stable. Actual unit sales to date in June 2020 are well ahead of the BCREA forecast, underscoring pent-up demand.
For Single Detached homes in the Lower Mainland, the report forecasts MLS® Unit Sales will be down -14.4 per cent in 2020 and up 50 per cent in 2021, with the MLS® Average Price to be up +1.4 per cent in 2020 and up 3.1 per cent in 2021. Bowen Island performed slightly better than the Lower Mainland in both categories YoY in 2019.

May statistics for Bowen Island indicated no dramatic year-over-year differences from April 2020 other than sale of a $6.5 million listing­­­—the first property sold over $1.5 million since November 2018. (This skews statistics for the month.) Looking a percentage change in the MLS® HPI over three years (May 2017 to May 2020), Bowen has continued to rank first or second for highest percentage increase.

Bowen inventory is down YoY; however, eleven new listings to date in June indicate renewed interest by sellers. Only two of the eleven listings are priced under $1 million hich is traditionally the most active market on Bowen, and it will be interesting to see how the market responds given current low mortgage rates and anecdotally, interest in Bowen as a great place to 'stay at home.' 

Bowen enters June with a relatively balanced market where both sellers and buyers can benefit.
BOWEN ISLAND YOY STATS @30 May 2020
• MLS®HPI: $947,133
• Median Price: $940,000
• Average Price: $1,071,189
Lot prices  varied from $29.84 to $11.93 per sq. ft.
STATS ON BOWEN is a detailed analysis of activity on Bowen Island published monthly,
usually within seven days from the end of the month.
If you would like notice of the most recent STATS ON BOWEN sent to your inbox
you can 
SUBSCRIBE HERE
 free of charge.
WE DO NOT SPAM.
You will only receive email related to the STATS ON BOWEN monthly reports.