MLS® HomePriceIndex 2.4 per cent below all-time high
Average Sale Price 3.6 per cent above an all-time high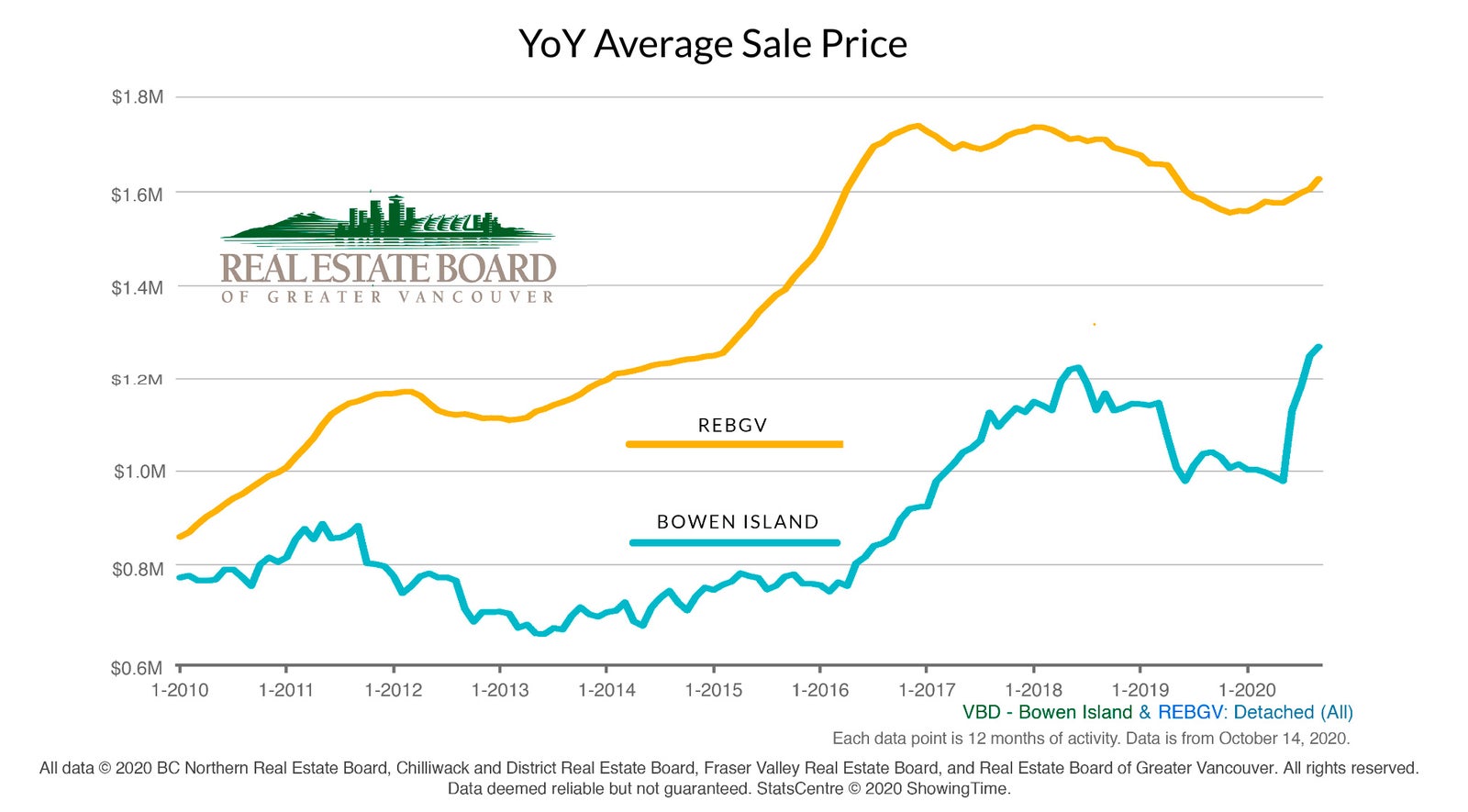 The year-over-year September HPI or benchmark price was $972,458, just 2.4 per cent below the all-time high of$996,142 in March 2019, when its downward trajectory began. A year later, when COVID-19 restrictions were announced in March 2020, the benchmark price had still not recovered and continued to decline by 0.6 per cent through June. A reversal began in July 2020 and in the 3 months since June, the benchmark price has grown by 2.7 per cent or $25,600.
     The YoY Average Sale Price was up 3.6 per cent to $1,266,633 from the all-time high in June 2018 of $1,222,187, and was up an impressive 29.4 per cent or $288,089 from the lowest Average Sale Price in May 2020. This underscores the renewed interest in higher priced properties on Bowen Island.
     By comparison, YoY, the REBGV HPI grew by 0.7 per cent from March through June and 1.6 per cent in the 3 months since June for an increase of 2.3 per cent during COVID-19. However, the all-time high Average Sale Price for the REBGV in September 2020 was down 6.6 per cent from the all-time high in November 2016.
     The dramatic increase in the YoY Average Sale Price over the past three months was unlike anything seen in the past ten years on Bowen Island. This was due to renewed interest in higher price properties on Bowen, perhaps because of the perception on the mainland
that Bowen Island's small population, rural setting, and easy access to Vancouver as an ideal refuge from COVID-19.
     It is unlikely the upward trajectory will continue to climb at this rate, although new listings in October 2020 have already exceeded the number in October 2019.
     Buyers who feel their income is secure and/or are able to telecommute to work are the most likely buyers in the somewhat uncertain future
offered by COVID-19.
SALE PRICE LOW $ 919,000   LIST PRICE $ 919,000
SALE PRICE HIGH $ 2,800,000   LIST PRICE $3,099,000
AVERAGE SALE: $ 1,747,800   MEDIAN SALE: $1,365,000
MLS®HPI: $972,458
• Median Price: $1,395,000
• Average Price: $1,747,800
$6.65 to $31.17 per sq. ft.
STATS ON BOWEN is a detailed analysis of activity on Bowen Island published monthly,
usually on or before the middle of the following month.
If you would like notice of the most recent STATS ON BOWEN sent to your inbox
WE DO NOT SPAM.
You will only receive email related to the STATS ON BOWEN monthly reports.