Proposed June increase in mortgage stress test rate could reduce buying power for some.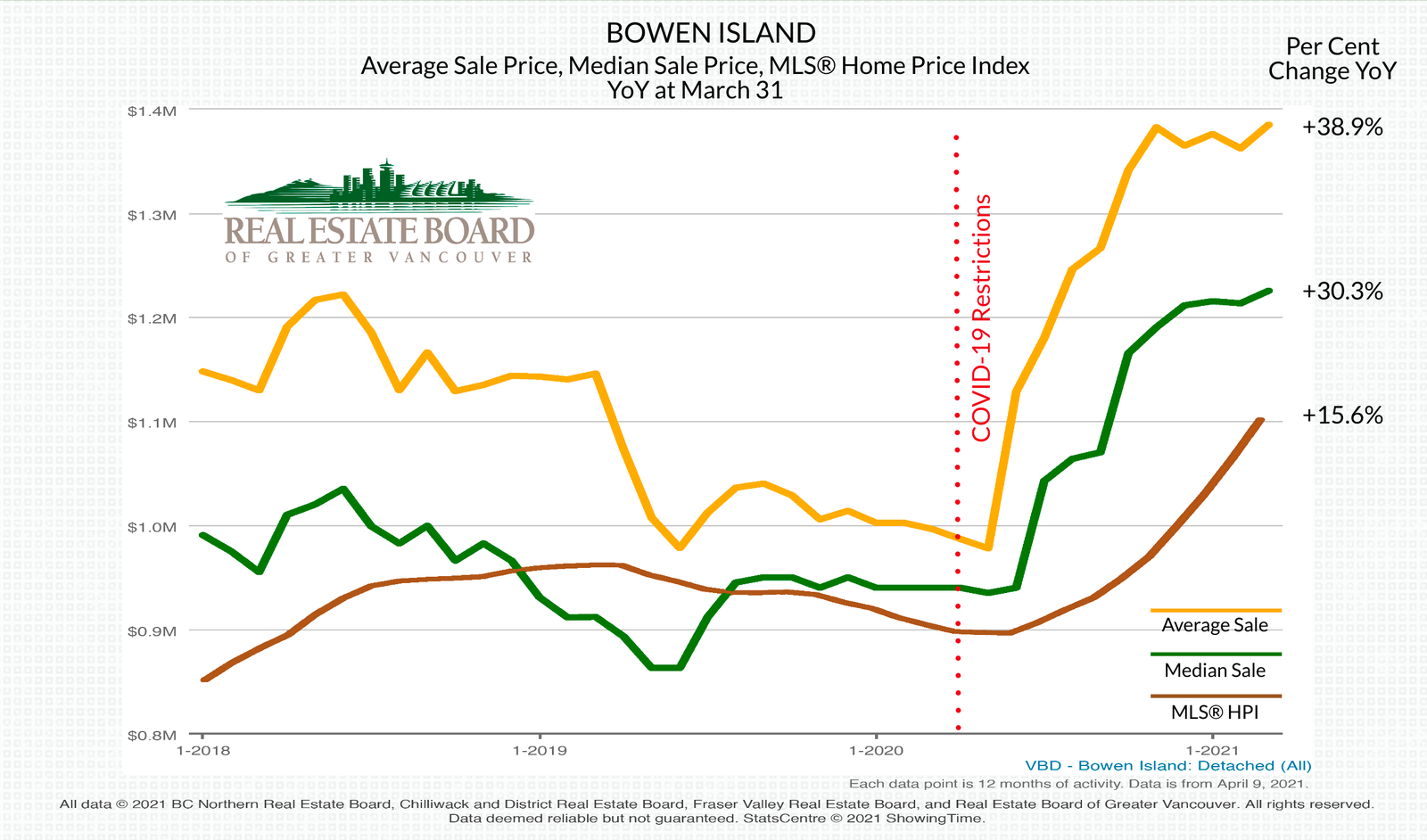 Comparing the last 12 months of activity (YoY), the MLS® Home Price Index or benchmark price for a detached home on Bowen Island in March 2021 had increased 15.6 per cent over March 2020—up $27,866 to $1,101,533—the highest percentage increase in Metro Vancouver.
The Bowen market has remained strong, and prices have increased steadily since July of 2020 with almost every YoY metric setting new records; however, inventory is very low going into the spring and summer seasons. Inventory in the month of March 2020 was double that of March 2021. As of this writing, one third of the 15 detached homes for sale are listed under $1.5 million, the price range responsible for 64 of the eighty-seven sales over the last 12 months.


"The government is idling in wait-and-see mode, hoping its previous measures, including a speculation and vacancy tax on empty homes, will be enough of a drag to eventually slow things down. That's unlikely, say experts." 
1
Neither of these measures apply to Bowen Island.
Betterdwelling.com
2
reports that the OSFI (Office of Superintendent of Financial Institutions) is proposing changes to the 'stress test' which would raise the 5-year benchmark mortgage rate to 5.25 per cent from 4.79 per cent on June 1, 2021. Many expect this to heat up the market even further in the short term as buyers try to close sales before this date. The 46 basis point increase drops the max borrower budget by 4.5 per cent, compared to today's rate.
"BMO sees the new stress test changes having a small impact, and barely noticeable to buyers. Chief economist Robert Kavcic argues the original rollout of the stress test had a minimal role in slowing down prices in 2018. The original introduction saw buyers lose 4x more buying power. He says, '… it had some bite on sales, but it didn't move prices at all from their existing path.'"


On Bowen, the upward pressure on prices appears to have softened and sales are likely to remain flat without new inventory coming to market for the spring and summer.
Current influences on the Bowen Island market
          • Greatest demand is in rural and suburban areas.
          • Benchmark price of a detached home for REBGV rose 9.6 per cent YoY and 1.4 per cent MoM to $1.53 million,                          compared to 15.6 per cent YoY and 2.6 per cent MoM to $1.02 million on Bowen Island.
          • Prices increases are unlikely to moderate over the coming 12 months. Continuing uncertainty about how long 
COVID • restrictions may be in play before 'herd' immunity.
          • Very low inventory levels.
          • Bowen Island is in bottom third of Metro municipalities ranked by benchmark price.
          • Bowen has no speculation or vacancy tax.
MONTH OF MARCH – DETACHED HOMES
          SALE PRICE  vs  LIST PRICE
Low        $  840,000        $   859,000
High       $1,925,000        $1,900,000
• Average Sale: $1,291,250
• Median Sale: $1,200,000
• MLS®HPI: $1,101,533
• Average Price: $1,385,144
• Median Price: $1,225,000
YoY LOTS AVERAGE SALE PRICE
$6.53
 per sq. ft.
1 

 https://www.vancouverrealestatepodcast.com/march-2021-rebgv-statistics-package/
2

   https://betterdwelling.com/mortgage-changes-may-accelerate-canadian-property-bubble-not-helpful-big-six-banks/
STATS ON BOWEN is an analysis of the detached home market activity on Bowen Island
Published mid-month of the month following.
If you would like STATS ON BOWEN sent to your inbox,
WE DO NOT SPAM.
You will only receive email related to the STATS ON BOWEN monthly reports.