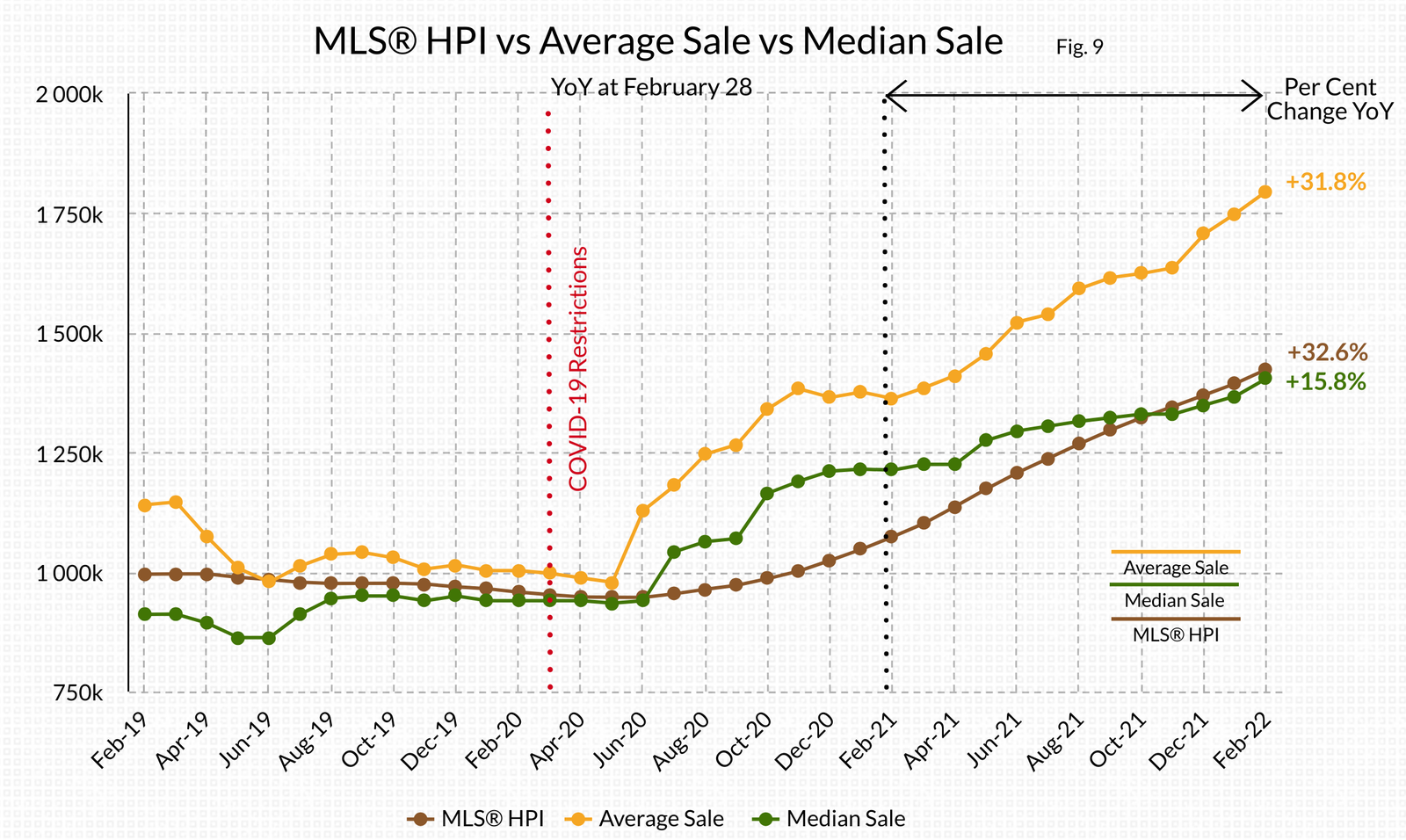 We saw no dramatic change in February 2022, and all metrics saw YoY increases except for inventory and number of sales. Bowen Island continued to lead Metro Vancouver in percentage increase in the MLS® Home Price Index compared to 2019; however, it ranked 6th when compared to the last 12 months, behind North Delta, Surrey, Maple Ridge, Langley, and Langley City. At the end of February, the MLS® HPI was $1,207,583 YoY – a 33 per cent increase – while the Median Sale increased by 16 per cent and the Average Sale by 32 per cent. In other words, business as usual.
     Prices increased dramatically on Bowen over the last 2 years. During the past year the number of properties sold for under $1 million accounted for only 10% of sales while properties sold between $1 million and $3 million accounted for 85 per cent. The cost of housing has had an impact on the demographics of the island we wait for more Census Canada releases to analyse this impact.
     The coming months are likely to see some changes due to the anticipated rise in interest rates and to the government's announcement of new legislation to protect consumers in the BC real estate market.
Interest rates
     On March 2nd the Bank of Canada raised interest rates by 0.50 per cent and indicated that more increases are coming. The announcement dates are April 13, June 1, July 13, September 7, October 26, and December 7, 2022.
   [T]he Federal Reserve and Bank of Canada [are] gearing up to raise interest rates […] With inflation serially overshooting expectations, and with economic slack having disappeared, [… t]he only question remaining is how high will rates go within this normalization cycle? TD Economics
    We will have to wait until April to see the impact of war in Ukraine on existing price pressures and inflation will have on the rate of increases.
    Those with new mortgages or mortgages renewed in 2018 or later were required to undergo the Canadian Mortgage Stress Test (the higher of 5.25% and your mortgage rate + 2%) and will have a buffer against climbing interest rates.

Real Estate legislation
     The BC Government has placed real estate oversight with the BCFSA and in November, without consultation with the public or the industry, announced its intention to introduce legislation to 'better protect consumers in B.C.'s real estate market' and address housing affordability. (There is not a real estate professional on the BCFSA board or senior executive team.)
     The legislation is to address a 'cooling off period' to give "buyers time to undertake due diligence when making a property purchase and provides the right to withdraw from a purchase agreement within a specified period of time after an offer is accepted." BCFSA is also focussed on 'blind bidding', 'price baiting', and risks associated with unconditional offers.
     Real estate boards and their members are concerned at the impact some of the proposals may have on the industry, on buyers, and on sellers, and the BC Real Estate Association has submitted a white paper to the BCFSA: A better way home: strengthening consumer protection in BC real estate. Stay tuned.





STATS ON BOWEN is a detailed analysis published monthly once all data for the month has been reported.

Published during the month following.

If you would like early access to the report during the first week of the month,

WE DO NOT SPAM.

You will only receive email related to the STATS ON BOWEN monthly reports and the occasional update.