Median, Average, and Benchmark metrics up slightly in  September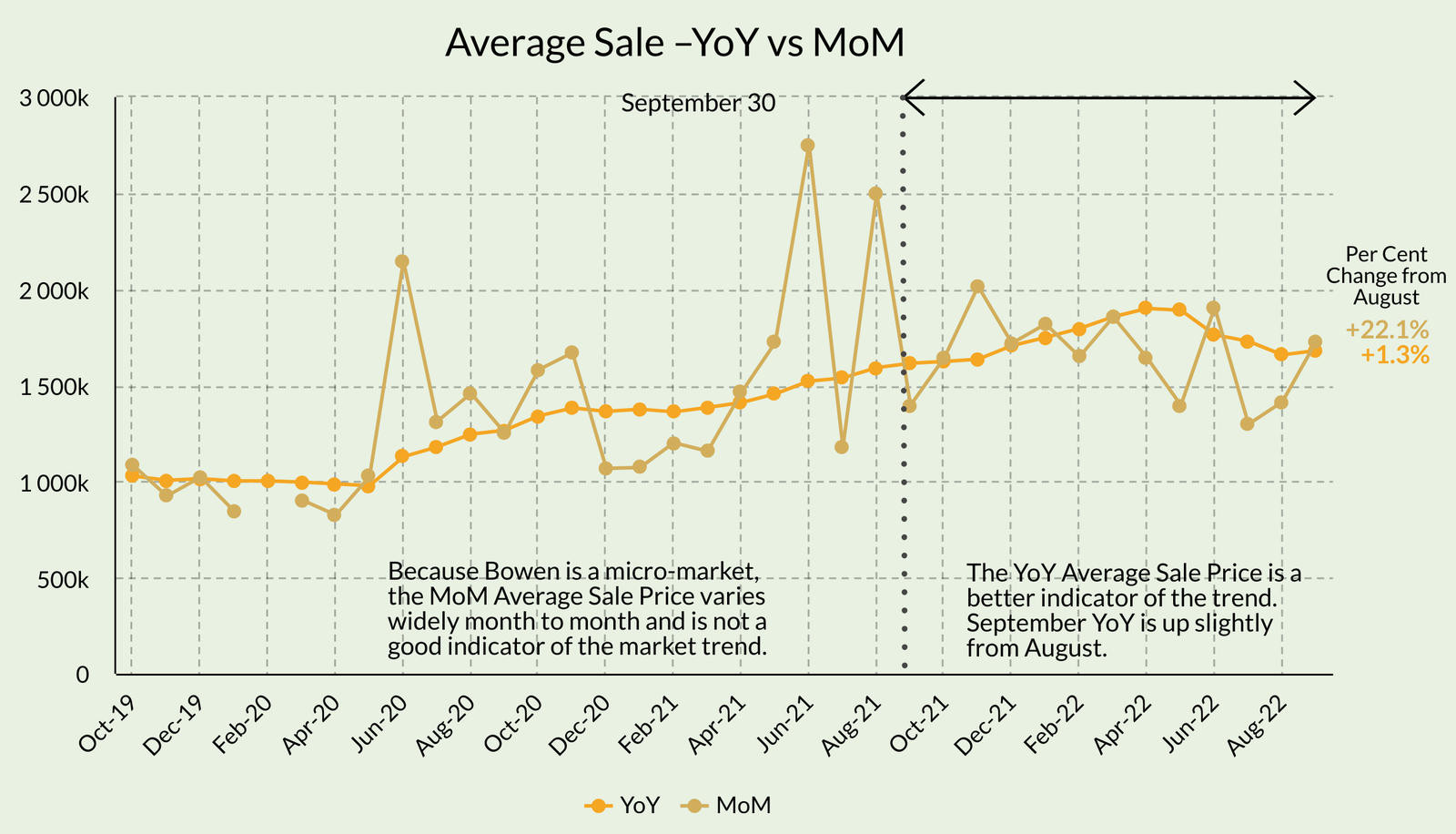 The September Year over Year Average Sale Price, Median Sale Price, and the MLS® Home Price Index were all up over August. The Average Sale Price ($1,681,302) increased +1.3 per cent over August, recording was the first uptick since April's record $1,900,394). YoY Median Sale Price ($1,480,000) increased +1.4 per cent over August, its first uptick since the record of $1,559,000 set in June. The YoY MLS® HPI or Benchmark Price continued to creep upwards, setting a record in September of $1,540,567, a 0.5 per cent increase over August. Year over Year the figures are still strong, with Average Sale Price up +4.1 per cent, Median Sale Price up +11.9 per cent, and the Benchmark Price up 21.2 per cent from September 2021.
 
Most metrics are tracking close to the 5-year average: Inventory of 39 detached properties in September slightly higher than the average of 35, the sale of 6 properties in September matched the average of 6, and YoY Sales of 69 beat the average of 65.

The median number of Days on Market prior to sale was considerably down from the YoY average, 9 compared to the 5-year average of 29, as was the average number at 26 compared to 56 days.
Properties selling between $1.5 and $3.0 million accounted for half the sales YoY while those between $1.0 and $1.5 million counted for two-thirds of the sales during September 2022, while during September 2021, properties under $1.0 million accounted two thirds of sales.

YoY unit sales were down in Metro Vancouver and on Bowen by -44.7 per cent and -11.5 per cent respectively, while the YoY Benchmark price was up +3.8 per cent in Metro and +21.2 per cent on Bowen. The Benchmark price for Metro decreased -2.4 per cent in September compared to April and increased 6.2 per cent on Bowen Island.
Predictions for the coming year on interest rates indicate some consensus that the rates will decline in the latter part of 2023.
"ING's forecast expects the Bank of Canada to have a further 75 base points of hikes, bringing the overnight rate to 4% in the fourth quarter of 2022, dropping to 3.75% in the third quarter and 3.25% in the fourth quarter of 2023 respectively."
Canadian Real Estate Magazine - https://tinyurl.com/interest-rates-ing
"The central bank is expected to raise the policy rate by 50 or 75 basis points as part of the Bank's strategy of front-loading rate hikes, but comes at a time when recession calls are growing louder.
Some economists are expecting the Bank to take its foot off the gas following this rate decision. Canada's top economists are expecting the Bank of Canada to deliver another outsized rate hike on Wednesday in its continued fight against decades-high inflation."
Financial Post - https://tinyurl.com/interest-rates-financial-post
Inventory remains low which benefits sellers and the Benchmark Price for properties on Bowen is flattening creating a reasonably balanced market for buyers and sellers.

Month of September Detached Homes
SALE PRICE vs LIST PRICE
• Low $980,000 $980,000
• High $1,675,000 $1,675,000
• Average Sale: $1,727,574
• Median Sale: $1,301,800
• MLS®HPI: $1,540,567
• Average Price: $1,681,302
• Median Price: $1,480,000
YoY Lots Average Sale Price Range
$10.47–28.13 per sq. ft.
STATS ON BOWEN is a detailed analysis published monthly once all data for the month has been reported.
Published during the month following.
If you would like early access to the report during the first week of the month,
WE DO NOT SPAM.
You will only receive email related to the STATS ON BOWEN monthly reports and the occasional update.