Most YoY metrics for Bowen real estate down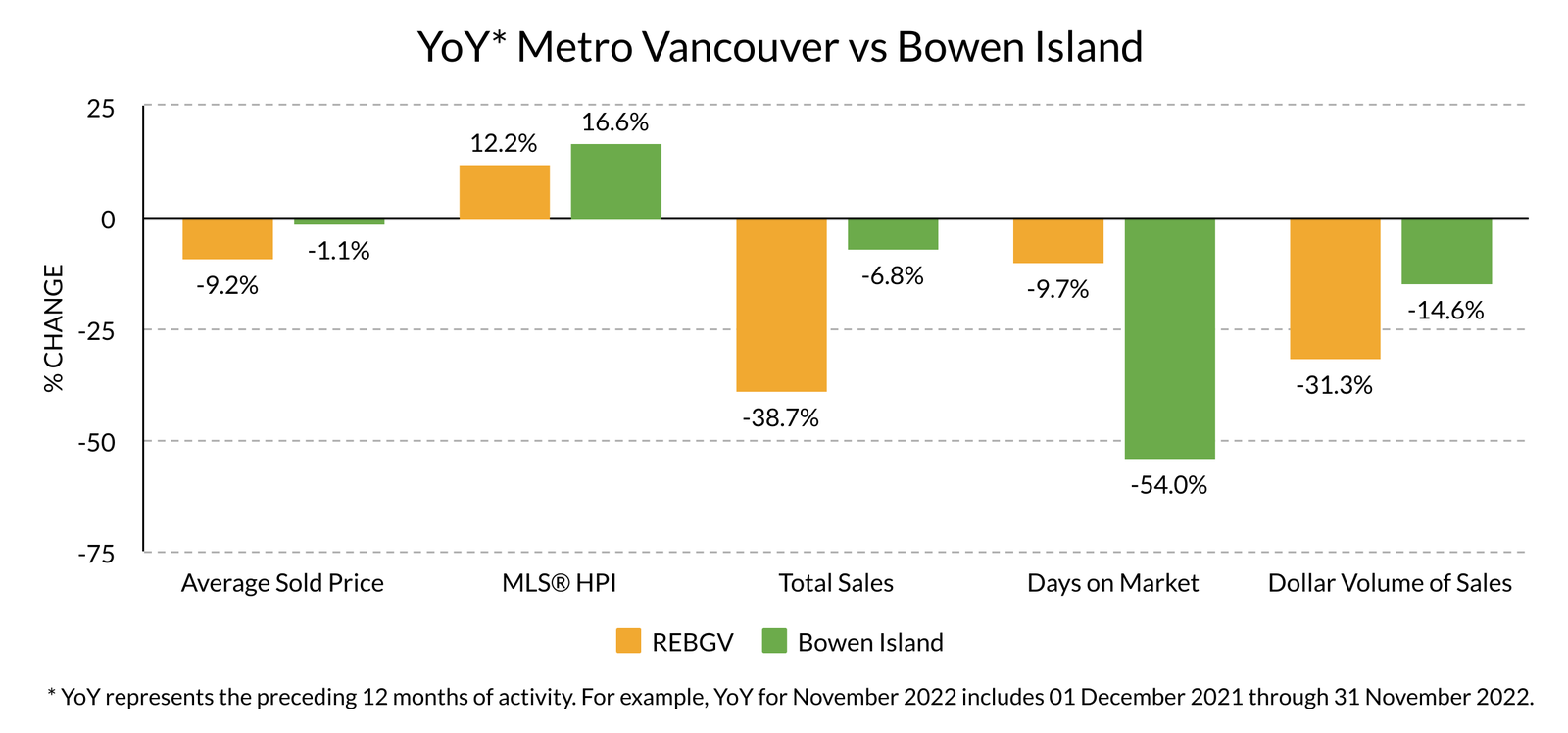 Real estate activity on Bowen has slowed dramatically with only one detached home property sold and no vacant land sales registered on MLS® for November 2022.
Both sellers and buyers are waiting for a clear indication of where the Bank of Canada rates, currently at 4.25 per cent, may be going in 2023. The BC Real Estate Association's Mortgage Rate Forecast (https://www.bcrea.bc.ca/economics/mortgage-rate-forecast/) reflects a widely held opinion:
"We expect that the average Canadian variable mortgage rate will rise to 6.35 per cent, consistent with a 4.5 per cent Bank of Canada overnight rate. Our forecast is for the Bank of Canada to begin lowering its policy rate next year, which will be passed through to variable rates by the end of 2023.
Five-year fixed rates have likely peaked at their current average of 5.5 per cent. Assuming the recent decline in Canadian bond yields is sustained, or even that yields fall further on an increasingly pessimistic outlook, fixed mortgage rates should begin falling in early 2023, ultimately ending the year around 5 per cent."
All forecasts of rate changes are dependent on the success of current BoC efforts to reduce inflation. There are eight dates in 2023 when the BoC addresses the rate: January 25, March 8, April 12, June 7, July 12, September 6, October 25, and December 6.
Most Bowen property owners have significant equity in their home – the year-over-year MLS® Home Price Index or Benchmark Price is up 53.9 per cent from November 2020, and 63.7 per cent from November 2019. This said, for those looking at mortgage renewals in 2023, the qualifying rate or Stress Test remains at 5.25 per cent or 2.0 per cent higher than the rate offered by your institution, whichever is greater, making the current qualifying rate in the range of 7.5 per cent.
Most YoY metrics for Bowen real estate were down from October and approaching November 2021 levels. Exceptions were Total Inventory with no change MoM for Detached Homes, Vacant Land up +53.3 per cent MoM, and New Listings up +50.0 per cent MoM. One positive metric for Sellers, Average Days on Market (DoM) were down -54.0 per cent YoY.
The market will likely continue to be slow over the next 2-3 months as some sellers and buyers watch the mortgage rate trend and the impact on prices. The market is balanced and will likely remain balanced, with some opportunities for both sellers and buyers.
Statistics from MLS® and collected 11 December 2022.
Month of November Detached Homes
• Low $1,000,000 $1,078,000
• High $1,575,000 $1,625,000
• Average Sale: $1,360,000
• Median Sale: $1,432,000
• MLS®HPI: $1,540,167
• Average Price: $1,647,086
• Median Price: $1,437,500
YoY Lots Average Sale Price Range
$8.31–27.81 per sq. ft.
STATS ON BOWEN is a detailed analysis published monthly once all data for the month has been reported.
Published during the month following.
If you would like early access to the report during the first week of the month,
WE DO NOT SPAM.
You will only receive email related to the STATS ON BOWEN monthly reports and the occasional update.