Stable, balanced, and sluggish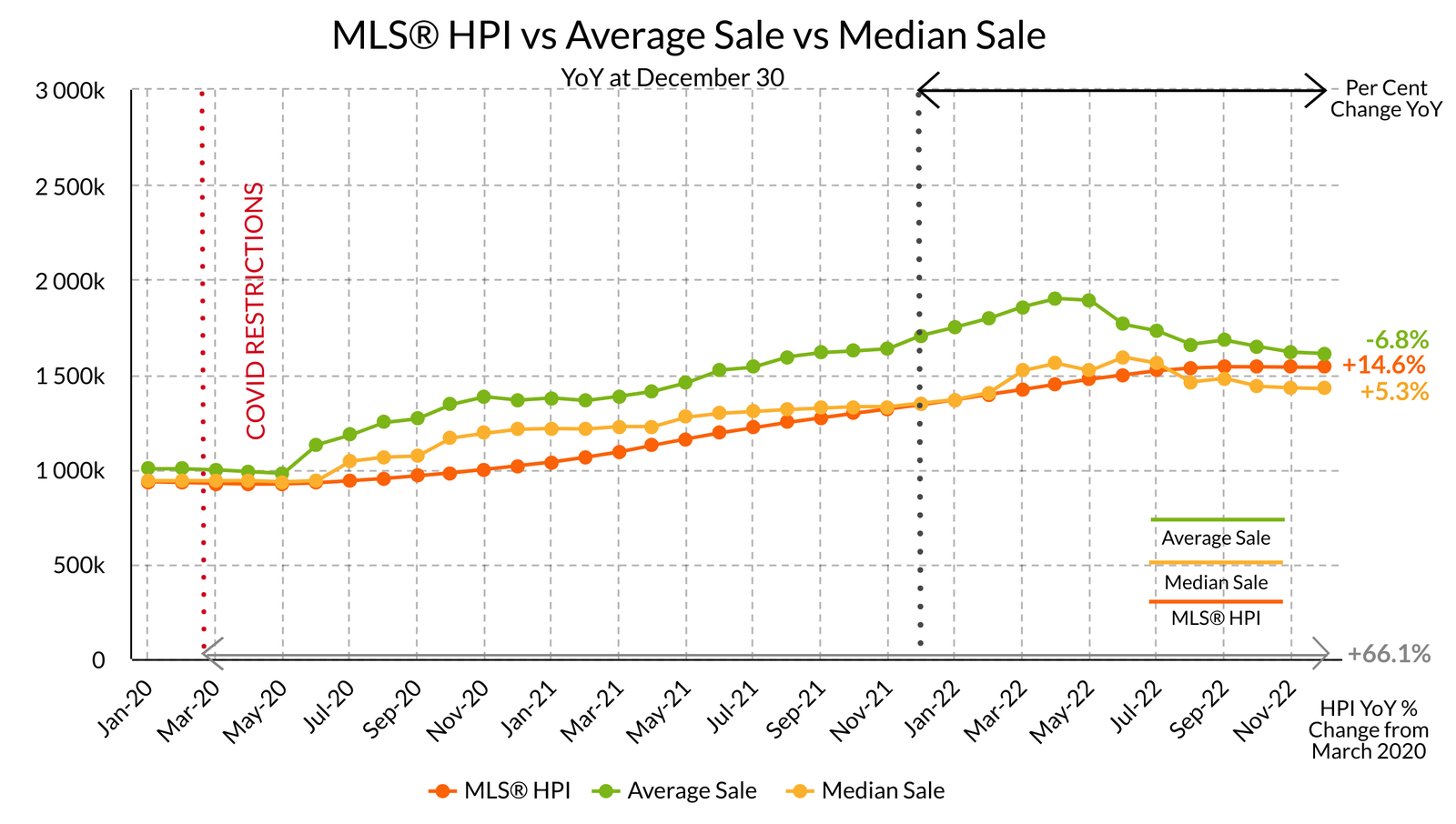 March 2022 marked the end of historic low interest rates as the Bank of Canada raised the rate .05 per cent, followed by with seven more increases, and yesterday announcing an eighth increase of 0.25 per cent bringing the rate to 4.50. Economists expect this to be the last rate hike in 2023 but are downgrading earlier predictions of significant decreases by the end of the year. The Bank of Canada media release stated, "Governing Council expects to hold the policy rate at its current level while it assesses the impact of the cumulative interest rate increases."
The effects of the rate hikes began to register in the Bowen real estate market mid-year after the Year-over-Year (YoY)* Average Sale Price reached a record high of $1,900,394 in April 2022, declining -15.3 per cent over the year to $1,609,496 at the end of December, finishing the year at -6.8 per cent YoY.

Record highs which stand today were set in 2012 and 2013 for Number of Days on Market and Inventory Levels. 2021 set records for YoY Number of and Dollar Volume of Sales and 2022 followed this trend by setting records for YoY Median Sale Price at $1,592,000 in June (down to $1,425,000 by December), YoY MLS® Home Price Index reaching $1,540,567 in September (down to $1,537,917 by December), and a record for MLS® HPI in a month of $1,674,100 in May 2022 (down to $1437,700 by December).

There were no sales registered on MLS for December 2022, joining only 3 other months of zero sales over the past decade: April 2019, February 2019, and January 2014. Because of the small number of sales monthly – the highest on record was 10 sales in March 2022 – the YoY MLS® HPI tends to be the most reliable indicator of the market on Bowen. It was down -0.2 per cent from the record high in September. Days on Market, YoY and monthly, also remained low during through December.
 
These statistics indicate the market on Bowen is relatively stable, balanced for buyers and sellers, and expected to remain sluggish due to interest rates and uncertainty in the economy.
* YoY represents 12 months of activity
Month of December Detached Homes
• MLS®HPI: $1,537,917
• Average Price: $1,609,496
• Median Price: $1,425,000
YoY Lots Average Sale Price Range
$6.65–$42.04 per sq. ft.
STATS ON BOWEN is a detailed analysis published monthly once all data for the month has been reported.
Published during the month following.
If you would like early access to the report during the first week of the month,
WE DO NOT SPAM.
You will only receive email related to the STATS ON BOWEN monthly reports and the occasional update.